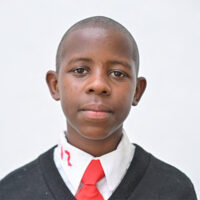 Education
St. Joan Academy, Junior High School
How did you get involved with the scholarship program?
Before going back to school, my father came and told me that I was invited to meet the Mbegu Trust team and then I did find out that I was accepted for the scholarship.
Do you have a favorite memory while in the program?
Yes, I have. I am happy to be in taekwondo, I have learnt more during the mentorship, and I can as well speak in English.
What was the most rewarding aspect about the program?
The program enables me to get full-time education since my school fee is paid in completion and thus enabling me to have good concentration and focus in class.
Do you have a set of goals for the future?
My goal is to finish my course and pursue further studies in law.
Do you have a message you would like to pass along to your sponsors?
Thank you for giving me this chance and when I grow up, I know that I will make it.