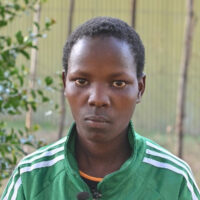 Education
Teber St. Benedict Mixed Day Secondary School, Sub County School
How did you get involved with the scholarship program?
When the Mbegu Trust visited our school, my principal suggested that I be sponsored because I had been sent home for unpaid school fees. I count myself fortunate to have been chosen as a scholarship program recipient.
Do you have a favorite memory while in the program?
Taekwondo is my favorite memory because it has taught me perseverance while football has taught me confidence.
What was the most rewarding aspect about the program?
The scholarship is paying my school fees and I would like to thank the Mbegu Trust for their help.
Do you have a set of goals for the future?
Yes, I want to be a doctor.