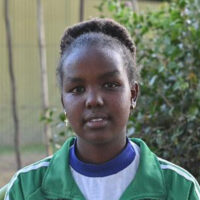 Education
Kisima Girls' High School Samburu, National School
How did you get involved with the scholarship program?
While I was at home, my father told me that the Mbegu Trust wanted to talk to me. I was told that I would be sponsored by the scholarship program of the Mbegu Trust.
Do you have a favorite memory while in the program?
Yes! Taekwondo, netball and the interactions that I have with my friends. I have also learnt more about farming and many new things.
Do you have a set of goals for the future?
Yes, I want to be a doctor in the future and a farmer as a side hustle. I also want to help the community just like the Mbegu Trust has helped me.