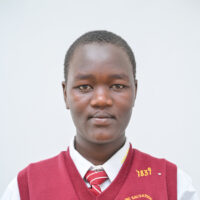 Education
S.A Kolanya Girls Secondary School, National School
How did you get involved with the scholarship program?
I had initially applied to KCB and Equity scholarships program, but I later got informed that I had been selected by Mbegu Trust.
Do you have a favorite memory while in the program?
My favorite memory is when we had a motivational talk by Brian. We learnt how to do away with procrastination and later joined taekwondo training sessions, which I enjoyed watching.
What was the most rewarding aspect about the program?
This is the best experience because everything is being sorted, from school fees, upkeep money and fare to and from school.
Do you have a set of goals for the future?
My set of goals is to pass my KCSE and join The University of Nairobi and pursue medicine.