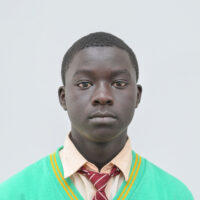 Education
Chewoiyet Boys High School, National School
How did you get involved with the scholarship program?
In 2021, I got the scholarship after I finished primary school, and my parents were unable to finance my high school education. My mother applied for the scholarship program and by God's grace, I got the scholarship.
Do you have a favorite memory while in the program?
My favorite memory is when I met my Mbegu Trust sponsor, since we used to talk on the phone only. Also, when I had the opportunity to attend the mentorship program, where we planted trees and were mentored by Brian who is a beneficiary.
What was the most rewarding aspect about the program?
The most rewarding aspect is that I have the chance to study in a favorable environment and not to worry about my school fees as it is catered for. Also, my parents don't need to worry about the logistics and the upkeep money and fulfil what is expected of me.
Do you have a set of goals for the future?
I would like to pursue law so I can change my community, solve cases, and administer justice. I also have ambitions and my desire is to change my background and make my parents proud of me.