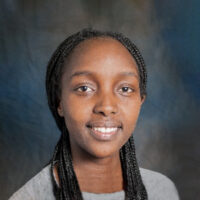 Education
Medical School of International Health at Ben Gurion University
How did you get involved with the scholarship program?
Unlike many of the students in my medical school program who can access educational loans from Canada and US, as a Kenyan, I did not have that line of funding available. To ensure I was able to start school, I launched an online fundraiser for my first year. Quite unexpectedly, one of my networks saw the campaign and connected me with the scholarship program.
What was the most rewarding aspect about the program?
The generosity and sacrifice of many donors and financial programs like Mbegu Trust have helped me overcome one of the biggest hurdles that prevent many international African students like myself from pursuing medical studies abroad. Thank you for enabling me to pursue my studies in Beer Sheva, Israel. Growing up in rural Londiani in Western Kenya, pursuing my career goals this far would not have been possible without the numerous hands that have supported me to this point.
Do you have a set of goals for the future?
My medical school program incorporates global health components throughout its training. I believe this training will help me understand diverse patient needs and empower me to advocate for healthcare access and equity among marginalized communities, especially those in areas like my hometown. After my medical training, it is my wish to take the medical skills and serve my community back in Kenya where there is a great need for anticolonial and culturally sensitive medicine.
I have sought educational opportunities that continue to broaden my medical exposure and equip me with a cross-cultural understanding and skills to advocate for marginalized communities. This includes undergraduate studies in the US to my current medical training in Israel where I am exposed to a variety of cultures that are a great resource for understanding global health. I learn about the complexities of practicing medicine including language barriers, poverty, illiteracy, and pre-conceived social taboos that prevent underrepresented communities from accessing quality healthcare. It is my desire to become an oncologist who studies, understands, and embraces these challenges to enhance healthcare access where it is needed.