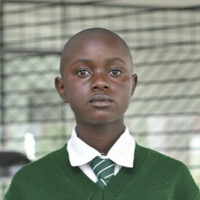 Education
Metkei Girls Secondary School, Extra County School
How did you get involved with the scholarship program?
I got the scholarship through my former head teacher at Berur Primary School. He met with the Mbegu Trust team and requested them to sponsor me.
Do you have a favorite memory while in the program?
No, I don't have a favorite memory yet, as I am still in the process of creating new memories.
What was the most rewarding aspect about the program?
The program not only covers my school fees but also pays for my school shopping and fulfills all of my school requirements.
Do you have a set of goals for the future?
Yes, I would like to be a journalist when I grow up.
Do you have a message you would like to pass along to your sponsors?
I want to express my gratitude to them because, without their support, I wouldn't have been able to enroll in form one. I live with my great-grandmother, and she couldn't afford to purchase the necessary school items.