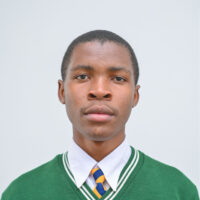 Education
Bungoma High School, Extra County School
How did you get involved with the scholarship program?
I got involved in the scholarship through Wings to Fly, where I applied for it, and I was called for an interview. I didn't get the scholarship, however, by God's grace, I was informed that had been selected to be part of The Mbegu Trust.
Do you have a favorite memory while in the program?
When we met with the Mbegu Trust team we were taken through various activities such as a mentorship program by Brian and we learnt taekwondo as a skill and its values. We also engaged ourselves in tree planting.
What was the most rewarding aspect about the program?
The program has really been helpful to me in providing my school fees and upkeep money which my parents didn't have the ability to cater for. Through the scholarship I am very grateful, I lack nothing.
Do you have a set of goals for the future?
I would love to pursue law and become a judge, who would help people settle cases and hope to help others as the scholarship has done for me.