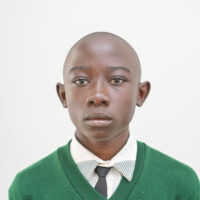 Education
Kakamega High School, National School
How did you get involved with the scholarship program?
After finishing my primary education, my father assisted me in applying for the scholarship program, and I was fortunate to be accepted.
Do you have a favorite memory while in the program?
My favorite memory is when we had a mentorship program with Brian, we also had an opportunity to participate in tree planting which signified seed planted by Mbegu Trust, which is expected to grow and be fruitful. We also had a great time with instructor Charles, who taught us the basics of taekwondo and its values.
What was the most rewarding aspect about the program?
The most rewarding aspect is that my school fees are settled, and I can comfortably study without being disturbed by the thought that I have fee balances.
Do you have a set of goals for the future?
My goal is to become a doctor and help needy children the way Mbegu Trust has helped me and others.