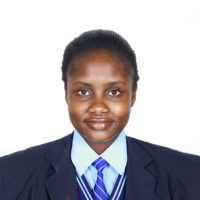 Education
Moi Girls High School Nairobi, National School
J.K.U.A.T. — BSC. IN HUMAN RESOURCE MANAGEMENT
Completion Date
2022
2027
How did you get involved with the scholarship program?
I will forever be grateful for the opportunity to join the program.
Do you have a favorite memory while in the program?
The time when we had a mentorship program with Brian and when I got a chance to meet the sponsors a while back.
What was the most rewarding aspect about the program?
Getting an opportunity to study at one of the best schools in Kenya.
Do you have a set of goals for the future?
I would love to pursue law at the university and become a lawyer.